トップページ
> English
English
Welcome to YOTSUYA-MURAKAWA INTERNAL MEDICINE CLINIC
Information about Coronavirus(COVID-19) in Japan (click hera!!).
The Yotsuya-Murakawa Clinic, specializing in internal medicine, opened in Shinjuku, Tokyo in 2008. The nearest railway stations to our clinic are Yotsuya Station on JR Chuo and Sobu lines, as well as on Marunouchi and Nanboku subway lines, and all are within an easy 3-minute walk from our clinic.
We provide our adult patients with primary care and long-term, comprehensive management of a wide variety of medical conditions and illnesses relating to the internal systems of the body. We regularly treat conditions such as high blood pressure, diabetes, coronary heart disease, congestive heart failure, asthma, and diseases of the heart, lung, stomach, liver and pancreas. But please do not hesitate to come and consult us when you have concerns about your body or health. Especially when you are unsure as to which or what kind of hospital you should go, we can be of assistance to you.
Office Hours; Mon - Sat; AM 9:00-PM 12:30, PM 2:30-6:00
(Closed on Saturday afternoons, Wednesdays, Sundays and Holidays.)
Appointments are not necessary.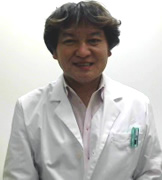 Yuichi Murakawa, MD, PhD
Education and degrees;
Graduated from the Jikei University School of Medical in Tokyo.
Board of Certification;
Board Certified Member of the Japanese Society of Internal Medicine
Fellow of the Japanese Society of Internal Medicine
Board Certified Endocrinologist (by Japan Endocrinology Society)
Board Certified Diabetologists (by Japan Diabetes Society)
Hospital Affiliations; The Many University Hospitals, Tokyo Kosei Nenkin Hospital, Tokyo Teishin Hospital and International Medical Center of Japan and others.


Address & Phone
Yotsuya-Murakawa Internal Medicine Clinic;
160-0004
Sansui -Building 1st Floor,
1-13, Yotsuya, Shinjuku-ku, Tokyo.
TEL 03-5366-1024 FAX 03-5366-1025
(You can contact us in English by phone.)


Our concern is maintaining your health.




Only cash payment is possible in this clinic. Credit cards are unusable.
There are ATMs in convenience store around the clinic.